READY TO START
AN EXCITING AND TASTY
NEW HOBBY WITH BEER?
Don't set up your home brewing kit alone. Get a complete kits from PJ's How 2 Spirits and enjoy $5.00 off any beer or equipment kit now through Christmas.
(not to be combined with any other offer)

Never brewed before?
Learn all you need to know about
homebrews with one of our
in-store classes!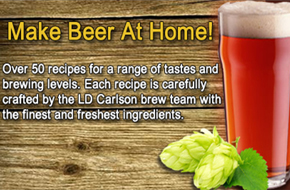 GET STARTED WITH A NEW EQUIPMENT KIT
Get everything that you need to start your new hobby with a brewing equipment kit from PJ's How 2 Spirits. Each kit contains everything you will need to begin making your own delicious beer at home, except the boiling pot, bottles and caps. Pair your new beer brewing equipment kit with one of our recipe kits to start at-home brewing today!
SPARE PARTS IN STOCK FOR ALL YOUR NEEDS!
Accidents happen, if one of your brewing pieces breaks or needs replacing,
call PJ's immediately to get an upgrade for parts, like:
- Primary Fermenter
- Carboy
- Carboy Brush
- Bottling Bucket w/Spigot
- Bottle Capper
- Bottles & Caps
- Plastic Paddle
- Econo-Lock
- Thermometer
- Hydrometer
- Siphon Hose
- Bottle Brush
- Auto-Siphon
- Bucket Clip
Stop by today to get all of the beer brewing equipment you need!
320-864-8466