POUR THE PERFECT DINNER
COMPLEMENT FOR YOUR
GUESTS WITH YOUR OWN
HOMEMADE WINE.
The right wine can really change the mood of a meal and celebration. Get a wine kit from PJ's How 2 Spirits and enjoy a delectable flavor all your own.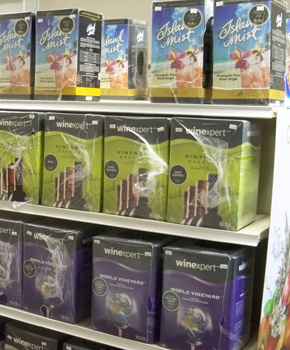 THE BEST WINE FOR THE BEST CUSTOMERS.
Stop spending tons of money on wine at the store. Make your own luscious wines at home with PJ's How 2 Spirits exclusive Winexpert ingredients kits. PJ's is proud to offer a variety of wine kits in stock, but if you're looking for a special flavor, your wish is our command. Get exactly the type, sweetness, or body you really want. Your wine kit will take some time to ferment for four to eight weeks, depending on its variety, but the results are always worth the wait. Don't forget to buy new fermenting equipment with your wine kit and get a FREE hand-painted wine glass with any $100 purchase.

(not to be combined with any other offer)
VINTNERS RESERVES FOR EVERY CELEBRATION
- Merlots
- Zinfandel
- Shiraz

- Gewürtzraminer
- Cabernet
- Sauvignon

- Variety of
Island Mist flavors
Call now to reserve your very own wine kit from PJ's How 2 Spirits!
320-864-8466