REWARD YOURSELF
WITH A GLASS OF WINE
AFTER COMPLETING YOUR
FIRST BATCH.
Winemaking can be a fun and satisfying experience.
Start your new hobby in style with a FREE hand-
painted wine glass with any $100 purchase.

(not to be combined with any other offer)
Is it your first time?
Find out more about our four part classes
to learn all about winemaking!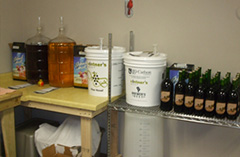 EXCITE YOUR TASTE BUDS WITH HOMEMADE WINE.
Stop spending so much on sophisticated bottles of wine and save your money for the main course. Fermenting your own wine at home is convenient, affordable, and gratifying. Get your very own Vintner's Best Winemaking Equipment Kit with everything you need to begin mixing up your first six gallons of wine at home. Other equipment kits are also available for order for those who want a more challenging experience.
NEED A PARTS UPGRADE?
No need to worry then! You can get all of your winemaking equipment needs with PJ's How 2 Spirits, including:
- Carboys
- Fermenters
- Funnels
- Bottles

- Brushes
- Corks
- Corkers
- Stoppers

- Stirrers
- Sterilizers
- Thermometers