LEARN HOW YOU CAN BRING LUXURY INTO YOUR OWN HOME.
Skip the store and enjoy a homemade glass of wine or beer instead. Learn how to make your own spirits with a PJ's How 2 Spirits brewing class.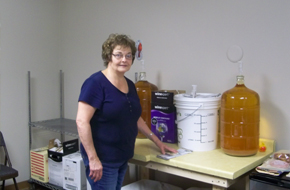 Want to participate in our
wine or beer making classes? Call us now
to find out when our next class is!
320-864-8466
WINEMAKEING CLASSES
Winemaking can be a complex, lengthy process for novices and experts alike. Know what's happening step-by-step in your home winemaking process with our four-part class. Learn how to build your own home brewing kit, get tips from our in-store wine experts, and create your own high-quality wine. Every attendee will enjoy their very own take-home bottle of wine at the conclusion of class!
BEER BREWING CLASSES
Making a homebrew the very first time can be a confusing process. Learn all the ins and outs of beer brewing and make the ale of your choice with our beer brewing class! You can enjoy the tastes of your own special beer, brewed with the hep of our beer experts.